In the dynamic technology field, AllRead stands out as a technology company specialized in Computer Vision and Deep Learning. It currently operates in 10 countries across Europe and Latin America, making its presence in the digital transformation of port processes.
Led by Adriaan Landman, COO and co-founder of AllRead, let's explore how AllRead it is at the forefront of optimizing container terminal operations, specially in critical areas such as container gate-in/gate-out, ship-to-shore movement, and rail transport. Through advanced software installed on local servers, it processes video sequences from a few IP cameras, providing real-time information seamlessly integrated with the Terminal Operating System (TOS). This includes data such as container numbers, license plates, UIC wagon codes, references to dangerous goods, and the presence of security seals, among others.
But, how does AllRead's technology differentiate from other solutions in the container terminal market?
Current OCR solutions often rely on complex hardware infrastructure: metallic gates with multiple cameras, lighting panels, detection sensors, and more. All of this is necessary to create optimal conditions for data capture.
AllRead's deep learning backbone delivers the utmost recognition accuracy even under demanding conditions. "Our neural networks are resilient and robust to various distortions and deformations, such as motion, blur, dust, partial occlusions, damage, rotation, and perspective", said Adriaan.
This resilience is pivotal when dealing with decades-old freight assets traversing the globe under adverse conditions. By concentrating the "heavy lifting" on software performance, AllRead can operate with minimal hardware requirements. This allows for lightweight and cost-effective transit control systems, accessible to ports of all sizes.
A typical implementation process of AllRead's technology at a container terminal
Adriaan Landman guides us through the implementation process. A standardized, plug-and-play approach ensures a swift "time to value." Collaborating closely with client's IT teams and potential hardware integrators, AllRead orchestrates the project, optimizing existing infrastructure. Implementation generally involves the installation of one or two ordinary cameras and lighting equipment. A server on the client's premises is set up, and remote access occurs via SSH through a VPN. See our architecture.
The implementation process includes:
Designing the installation and evaluating hardware requirements.
Documenting and aiding in server preparation and access.
Configuring the software to provide the desired integration output.
Conducting performance tests.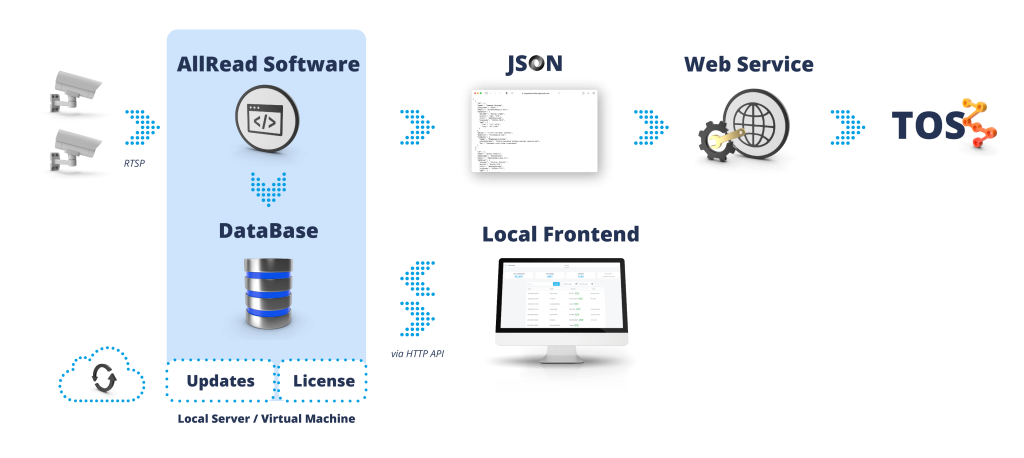 Continue in article 2: "Optimizing Port Operations with AllRead's OCR Technology" 
Ready to take your port operations to the next level? Discover how AllRead can transform efficiency at your container terminal! Contact us today for a personalized consultation and find out how our solutions can make a difference.
Follow us and subscribe to our newsletter
If you want to keep up to date with the latest news about technology in port logistics, subscribe to our newsletter. You will regularly receive the most important content and news from our blog in your mailbox.
Follow us also on social media: LinkedIn, Twitter and YouTube.