Automation of granite block traceability
«AllRead's deep learning-based software allows for increased control and automation of cargo traceability, enabling much more accurate and faster operations. Using a simple mobile device, codes were detected on stone and granite blocks from different suppliers at a port terminal.».
Karolina Iwanowicz, Innovation Project Manager, KALEIDO Logistics Group.

• Company: Kaleido
• Location: Vigo, Pontevedra.
• Industry: Logistics.
• Use case: Asset traceability automation.
Kaleido is a multinational company specialised in global logistics with headquarters in Vigo and offices in Spain, Mexico, Brazil, Argentina, Morocco, Angola, South Africa, India and China. Thanks to its experience, together with its R&D&I division, it offers its clients innovative solutions ranging from software development to the implementation of Self-Driving Vehicles (SDVs) technologies. It has an area specialising in logistics and transport, warehousing and value-added services called Kaleido Supply Chain Management. They have extensive and proven experience in the implementation of integrated management systems and supply chain process standards. They offer tailor-made solutions both at their own facilities and at the customer's facilities, both on the Iberian Peninsula and abroad.
The problem: traceability and manual inventory of granite blocks
Kaleido has to manually check incoming and outgoing blocks from 5 different suppliers. There is no standardisation in their letter and number structure, and the blocks are marked manually from a spray or stencil, which adds an additional challenge for reading. This leads to an increase in errors and revision time. Therefore, it needs a solution to automate the traceability of granite blocks for entry (import) and exit (export) at the Port of Vigo. Its objective is the detection and reading of alphanumeric codes on stone and granite blocks.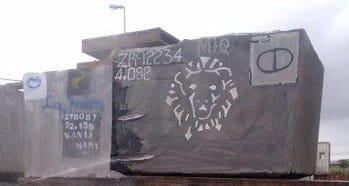 The solution: Mobile APK with integrated reading models
In response to Kaleido's need, AllRead developed a solution capable of reading letters and numbers independently of their structure from a mobile device.
It was detected that there were up to 16 varieties of code and tested with 3 different suppliers to configure our technology, from which more than 800 images were identified and read to prepare the fine-tuning of the solution.
Field tests were carried out with the APK with the same suppliers, the minimum target result was to achieve 80% reading accuracy, which was exceeded with 87% accuracy.
Key Factors: Readability with just a mobile phone
We ensured a smooth implementation, without affecting the company's operations, processing all information in real time. The success of the results was due to a number of key factors:
The possibility to use a generic reading model capable of reading codes from different vendors and block encodings.

The ability to run AllRead software on mid-range mobile devices, giving Kaleido greater flexibility.

Real-time data processing, which can improve the visibility and traceability of assets immediately.
The results: accurate readings and fast automation of the process.
At the end of the project, AllRead offered:
87% correct readings considering 3 different suppliers in 16 code variations identified.

Offline readings in seconds.

Compatibility with mid-range Android phones.

Improve the operator's experience in monitoring the blocks.
As next phases, AllRead will deliver to the client its software in an SDK solution, which will be able to read these blocks offline and with compatible integration to the native mobile application used by Kaleido. The benefits generated by the project include:
Optimisation of block traceability.

Direct efficiency gains in block loading and unloading processes.

Scalability of the block reading solution with new code variations.

Scalability of the solution to all Kaleido suppliers.
Do you want to automate and optimize cargo traceability?