On 14th, 15th and 16th of June, one of the world's leading events for ports, terminals and maritime transport took place. TOC Europe this time was held in person in Rotterdam, the Netherlands, at Ahoy Rotterdam.
AllRead's business development team attended the event to showcase our Artificial Intelligence OCR solution for traceability and monitoring of goods, and also to keep up to date with the needs and innovations in the maritime industry.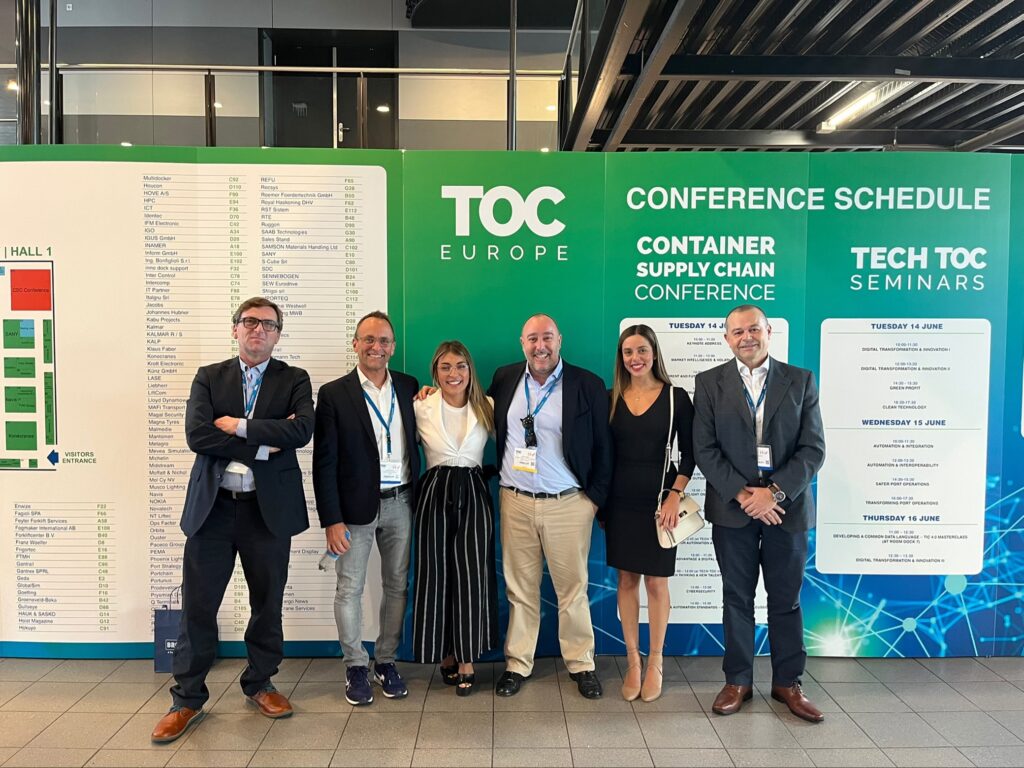 The event brought together over 4000 professionals and more than 200 exhibitors, with 60 countries represented. It offered a wide range of conferences, in which the most recurrent theme was sustainability and the vision towards a sustainable future of the port sector. Success stories were presented from different entities and companies where the main objective was the reduction of pollutant emissions and carbon footprint.
What is TOC Europe?
TOC Europe is an event created by TOC Worldwide Events. It is part of a global portfolio of events bringing together manufacturers and suppliers to the shipping, port and terminal industry.
Visitors can obtain products, ideas, services and technology crucial to their business operations, connect with key players in the maritime industry, and keep up to date with the latest technologies, innovations and industry developments. In addition, TOC Europe incorporates an international technical conference to discuss key industry issues.
In this last edition, the event programme had 7 conference topics and more than 100 hours that included topics such as port infrastructure and inland logistics, digital levelling, automation, integration and energy transition.
Sustainability: the key objective of the port sector
Over time, sustainability has become a priority and a top item on the agendas of all ports. The shipping industry is one of the most fossil fuel intensive sectors, and consequently a contributor to greenhouse gases. This is why they have started their green journey by focusing on the evolution towards sustainable ports.
Ports operate with environmental, social and economic impacts in mind, and take measures to mitigate them wherever possible. Here are some of the most important changes that can be made in ports to reduce their environmental impact:
Upgrade port infrastructure: Machinery such as cranes, forklifts and trucks use diesel, which adds to the industry's high carbon footprint. These machines can be upgraded to use cleaner fuels with lower emissions.
Using big data to improve efficiency: As a solution, ports can make use of predictive tools to improve vessel scheduling, avoiding backlogs. This would seriously improve productivity in ports, save time and economic resources, and avoid wasting fuel and unnecessary emissions.
Improving waste disposal facilities: Inadequate waste disposal poses a major threat to the health of our oceans. Ports can improve their disposal systems without harming marine life or the environment.
Alternative energy: The shipping industry produces some of the dirtiest fuels in the world. Ports can modify their infrastructure to provide alternative fuels such as liquefied natural gas instead of fossil fuels, a measure that has already been contemplated in the latest IMO regulations.
The impact of AllRead on port sustainability
Our solution results in a significant reduction of delays and transit times by up to 25%, and economic cost savings estimated at up to €80 million per year. Moreover, thanks to the implementation of cutting-edge technologies for traceability, it improves operational efficiency and reduces bottlenecks, regardless of the size or volume of port operations.
Moreover, we work with the aim of democratising access to Artificial Intelligence technologies, eliminating the technological and financial barriers to their adoption in the maritime and logistics-port environment. An example of this is the success stories with Port of Algeciras and Port of Bilbao.
        
If you want to keep up to date with the latest news from about technology in port logistics and utilities, subscribe to our newsletter. You will regularly receive the most important content and news from our blog in your mailbox.
Follow us also on our social profiles in LinkedIn, Twitter, YouTube, Instagram and Facebook.