Inventory automation of containers with drones
The problem: automating the inventory of a container terminal
AllRead aimed to use its artificial intelligence reading solution to carry out container inventory at a depot terminal using drones.
The terminal needed to implement a robust solution for reading container codes at different angles, speeds and types of container codes. In addition, the solution should be flexible to the point of being associated with videos recorded by the drones responsible for recording the inventory.
Reefer containers present a traceability challenge. On the front side, they display two codes surrounded by electrical connections, temperature panels, control panels and refrigerators, which complicate the reading environment.
Other times, this side usually remains hidden by the tractor head when loaded on trucks, which makes it inaccessible.
Using AllRead on drones, it was possible to identify reefers from any perspective, both on their front or rear face.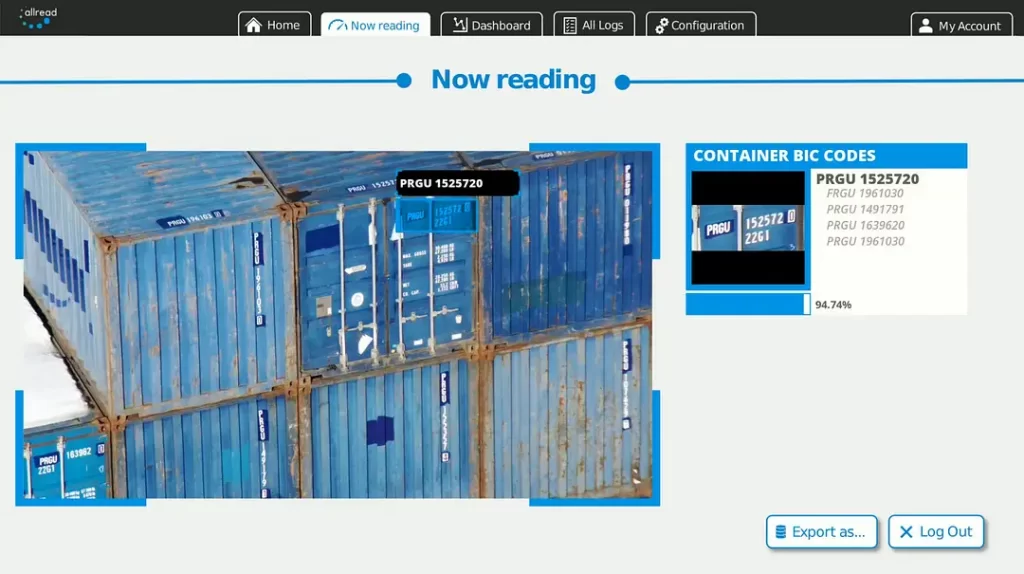 The solution: automatic reading from a drone camera
The project lasted 11 weeks, with the following phases being carried out:
AllRead provided the terminal with our intermodal intelligent reading software, based on Artificial Intelligence (Deep Learning and Computer Vision), capable of detecting, reading and digitising several codes simultaneously from any camera.
The intelligent reading system was able to read in real time any codes and recognise the structure of the different container types from the images captured by the drone.
The results: high level of accuracy of readings
During the course of the project and at the end, we ensure a smooth implementation, without affecting the company's operations. The main results are as follows:
We were able to conclude that the current reading solutions are robust enough for a pilot/installation project.