As we all know, ports are increasingly faced with the need to embrace digital transformation to remain competitive. The various crises currently affecting global supply chains have been the trigger to accelerate this process.
We all know about the COVID-19 pandemic, the jamming of the huge Ever Given container ship in the Suez Canal, the rising price of energy, Ukraine war, the growing awareness for sustainability, and other socio-political conflicts that seem to be testing our society.
Smart Ports, the Ports of the Future
Ports all over the world are in a phase of continuous improvement to adopt new, more efficient, innovative and user-oriented operating models based on a Smart Port or intelligent port concept, which allows port operations and services to be managed in a sustainable manner.
However, all this context is leading ports to make a titanic effort to continue offering their traditional and needed value to the community and the world, while transforming their organisations to better cope with these changes.
In Deloitte's recent "Global Port Trends" report, they showed that there are 4 main areas and trends where ports are focusing their efforts.
Environmental, in which ports play a key role in reducing the effects of climate change.
Technological, where new innovations allow ports to optimise their activities.
Geopolitical, with an increasingly complex environment in which European ports need to keep Europe in trade.
Demographic, where the changing structure and size of populations affects the growth of ports.
Within these trends, the threat of climate change and the need to adopt more sustainable systems is given prominence in 66% of the ports.
In this respect, the last decade has seen a shift, mainly driven by collaboration between ports and technology providers, towards a more innovative port landscape.
Port Technology Disruption
Disruptive technologies have had and are having an unprecedented impact on port facilities and its transformation towards digitalisation:
Greater efficiency in the use of infrastructures.
Greater transparency towards users and stakeholders.
Better security and safety monitoring.
Changes in staff skills.
Blockchain, artificial intelligence, IoT, Big Data, among many others, are the technologies that are becoming more and more common in ports and are responsible for improving the way ports work.
For example, with AllRead's Artificial Intelligence software, we combine Deep Learning and Computer Vision to give the many ports and terminals that already work with us – from Spain, Europe and Latin America – extremely high rates of accuracy, reliability and visibility in the traceability of goods and transport assets, using minimal tech requirements.
AllRead's Technology
Thanks to our technology, it is now possible to detect in real time the identification codes of containers, wagons, dangerous goods or even security seals from any IP camera or mobile phone, avoiding repetitive manual processes for control or security operators at access points and in any area within the port facilities.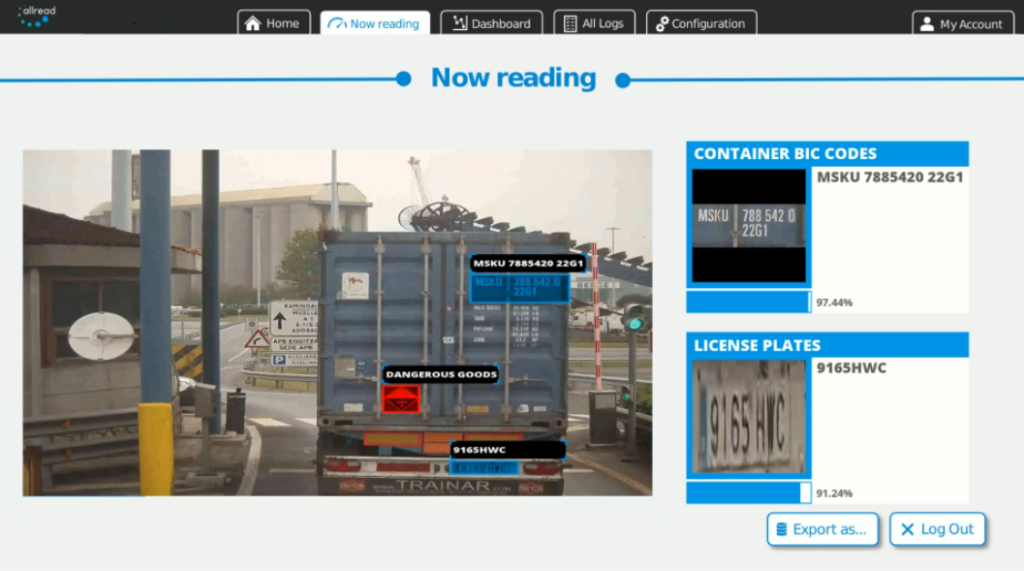 This works even in challenging circumstances such as at night with low illumination, at dawn or dusk with its high contrast, in high-speed movement, with varying perspectives and distances, breakage or partial occlusion of the codes, regardless of the coding standards to be read at the same time, such as in the case of number plates from different origins.
With this technology, among many others that are being implemented thanks to the incorporation of innovative solutions in ports, we contribute to achieving one of their fundamental objectives: greater economic and operational efficiency through process automation. This is increasingly necessary in ports environments due to the complexity of the supply chain and the large number of networks involved, such as terminals, shipping lines, transport and logistics companies, port authorities and off-dock storage providers.
       
If you want to keep up to date with the latest news from about technology in port logistics and utilities, subscribe to our newsletter. You will regularly receive the most important content and news from our blog in your mailbox.
Follow us also on our social profiles in LinkedIn, Twitter, YouTube, Instagram and Facebook.
Article based on the original article by Miguel Silva-Constenla for Puertos y Más, published on 7 June 2022: https://puertosymas.com/retos-de-la-transformacion-digital-en-puertos/