For yet another year, one of the main events in the port sector in Europe was held. The Smart Digital Ports, this time in person at the nhow Hotel in Rotterdam, on 11th and 12th May.
AllRead participated as sponsor and speaker, with the presence of Jeniffer Rincón, Business Development Manager and Urban Pettersson, Global Commercial Director of AllRead.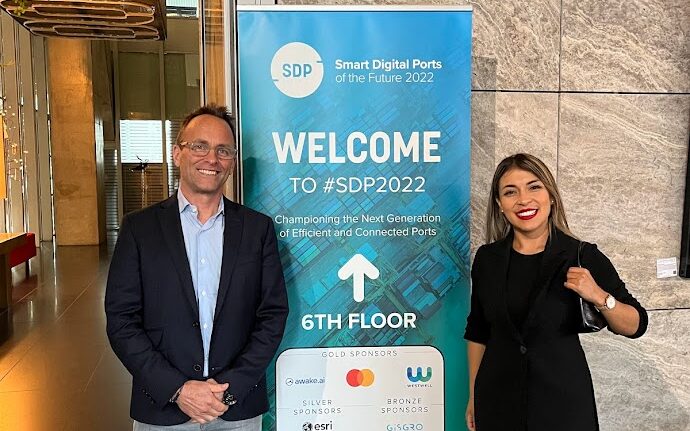 The event brought together more than 75 ports, 300 attendees and 50 speakers from more than 20 countries in the port sector. It offered a debate on data exchange and standardisation in the port sector, presenting the most advanced success stories that demonstrate how ports are increasingly using cutting-edge technologies such as artificial intelligence, the Internet of Things or digital twins.
What is Smart Digital Ports?
Smart Digital Ports is an event created by Port Technology. Its main function is to bring together the global port and terminal community to share knowledge, learn about new technologies and connect with other professionals, offering sessions in which experts in logistics, trade and technology analyse the main trends and challenges facing the port sector.
This latest edition dealt with various topics, but the backbone of the event was governed by 4 main themes: efficiency and sustainability, the importance of people in the transition to smart ports 4.0, the adoption of autonomous vehicles and the role of artificial intelligence in ports.
Digitalisation as the future of the port sector
Our Business Development Manager, Jeniffer Rincón, participated in the round table where the role of artificial intelligence applications in an intelligent and automated port was explored.
The digital transformation in the maritime-port sector involves challenges, opportunities and advantages in which Artificial Intelligence plays a crucial role. It offers innovation with greater profitability and the ability to be competitive in such a dynamic, uncertain and complex environment as the globalised economy in which we find ourselves.
        
Artificial intelligence would bring multiple benefits such as higher productivity, lower costs and the elimination of errors by reducing repetitive manual tasks, as the technology simplifies and automates these tasks. It also saves time, offers rapid scalability and adaptability, enables continuous improvement and contributes to sustainability.
AllRead's role in port digitisation
From the AllRead team we work with the aim of democratising access to artificial intelligence, lifting the technological and financial barriers to its adoption in the maritime-port and logistics environment. As we have done previously with projects such as the Port of Algeciras or the Port of Bilbao.
                            
If you want to keep up to date with the latest news from about technology in port logistics and utilities, subscribe to our newsletter. You will regularly receive the most important content and news from our blog in your mailbox.
Follow us also on our social profiles in LinkedIn, Twitter, YouTube, Instagram and Facebook.