Ports around the world are making a commitment to digitalisation. Disruptive technologies such as artificial intelligence, the Internet of Things or edge computing, among others, replace many manual tasks and allow improvements in terms of efficiency, control, safety and sustainability.
One of the characteristics of the use of drones in ports is immediacy. It allows processes to be known and evaluated in real time, thus reducing times and gaining in effectiveness. For ports, jumping on the digitalisation bandwagon means not being left behind in a world that is advancing faster and faster and in a connected way.
Drones
Aerial remote control systems make it possible to reach difficult or even dangerous places in a matter of minutes. They are a tool for capturing images and data, for example, in container depots in order to detect their codes from the air.
They can also be used with objectives such as:
Improve the safety of the installations and the working conditions of the operators.
Supervise maintenance and inspection tasks of installations. For this, both drones with conventional cameras and those with other more specific uses, such as infrared, thermographic or photogrammetric cameras, have a place in port activities.
Carrying out deliveries of small loads. This makes it possible to carry out exchanges of goods without the ships having to dock at the port.
In addition, the PORTwings project, developed at the Port of Hamburg, seeks to exploit one of the main advantages of drones: immediacy. The aim of the initiative is to use drones to act more quickly in the event of an accident. As they point out from this German port, the sensor data and images are sent almost immediately to the specialists who must act in the event of an emergency.
Edge computing
Edge computing analyses the data collected by devices in near real-time, so it is possible to know what is happening in a port at any given moment. This is possible because it shifts the processing of data from the cloud to the devices that generate it.
Receiving information more quickly facilitates decision-making. Edge computing makes it possible to make forecasts, optimise work rhythms, anticipate maintenance tasks and improve safety. It can, for example, optimise the efficiency of autonomous vehicles, which collect information from their surroundings as they drive.
An example of a successful case is the one carried out by the Port of Bilbao, which, together with Telefónica and AllRead, used this technology for access control and the detection of dangerous goods. Likewise, in 2020, the Port of Barcelona launched the 5G Maritime pilot project, an initiative to validate the location of ships in real time, combining artificial intelligence, 5G, cloud computing and edge computing.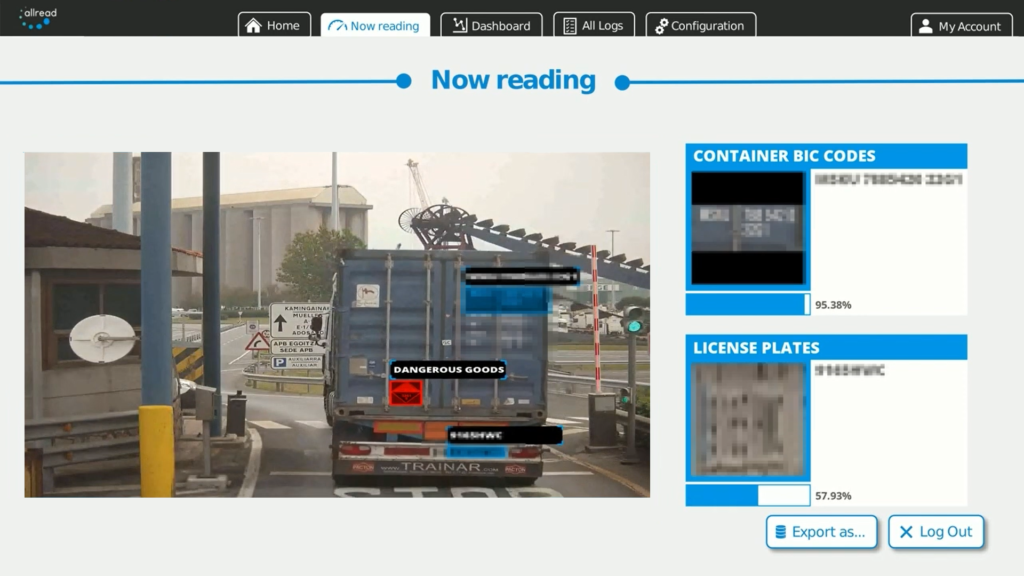 Blockchain
The blockchain has great potential to streamline the logistics chain in ports. It is a technology that allows transactions to be processed in a decentralised manner and validated by the network itself. This guarantees more transparent processes, facilitates traceability and gives confidence to all the agents involved.
In ports, blockchain makes it possible to know the exact location of ships and containers, monitor goods and shorten management times, among other actions. Thus, it improves the efficiency of processes.
An example of the use of blockchain in ports is TradeLens. This project of the Port of Valencia allows several partners to share information relating to a transaction in real time. Its use, according to the Valencian port, reduces the transit time of a shipment by up to 40%.
Artificial Intelligence
Artificial Intelligence (AI) is the ability of machines to think, learn and plan to achieve certain goals, and multiple ports and terminals such as BEST Hutchison are embracing AI. This is because, in the port environment, AI allows machines and devices to make their own decisions, and complements the work of human teams by improving the efficiency of operations.
Among the uses of Artificial Intelligence in ports are the following:
Monitor the entry, exit and registration of vehicles and goods.
Automate the transfer and classification of loads.
Plan and organise tasks and work rhythms.
Select the most efficient sea and land delivery routes.
Improve security systems.
Identify goods in real time.
AI can enhance the performance of other technologies already in existence and commonly used in ports. For example, traditional OCR systems, as opposed to AI-enabled OCR software. Optical Character Recognition technology is used to read the codes used in the logistics industry to identify vehicles and containers entering the premises.
            
OCR systems, optimised thanks to AI and deep learning models, promote port autonomy and efficiency. Systems such as those analysed in our ebook 'How Artificial Intelligence transforms traceability in ports' allow the automatic detection of any code, even in low visibility situations, without the need for large hardware infrastructures and with very fast response times.
Internet of Things (IoT)
The Internet of Things (IoT) is another technology with great potential to transform ports. It allows devices to be grouped and interconnected through the network in order to collect data and analyse it later. In this way, IoT technology creates a large network to which ships, containers, autonomous vehicles and other elements can be linked.
In ports, the IoT makes it possible to control the entry and exit of vessels, track cargoes and monitor the work of operators, for example. Sharing data over the network eliminates manual operations, such as records of the location of goods.
IoT devices can also be used to monitor and maintain the port environment. The Port of Algeciras, for example, has a connected system to measure air and water quality, and thus control the impact of its activity on the environment. The Port of Rotterdam, on the other hand, has developed a platform to obtain data on weather conditions.
Devices connected to an IoT system generate a large amount of data that can be used to extract information and predictive patterns.
Technology in ports: key to digital transformation
The list of disruptive technologies capable of transforming ports does not end here. Robotisation, digital twins, virtual reality or autonomous vehicles, for example, are other innovations that have already started to change the paradigm.
References:
'5G Maritime', 5G Barcelona.
'Port of Rotterdam puts Internet of Things platform into operation', Port of Rotterdam.
'PORTwings', Hamburg Port Authority.
Follow us and subscribe to our newsletter
If you want to keep up to date with the latest news from about technology in port logistics and utilities, subscribe to our newsletter. You will regularly receive the most important content and news from our blog in your mailbox.
Follow us also on our social profiles in LinkedIn, Twitter, YouTube, Instagram and Facebook.